Article:
Youth and no work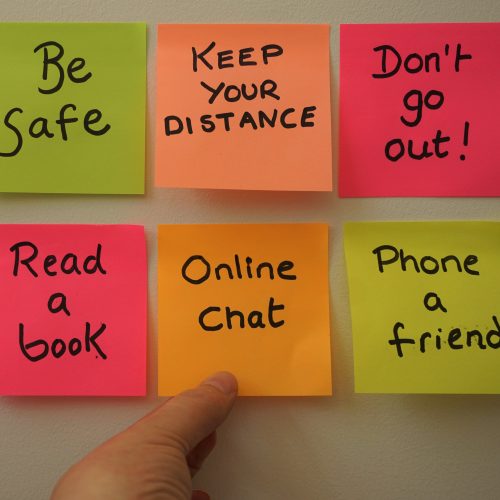 As a youth worker in a small London based organisation, Sally Baxter wanted to share her experience, taking the journey from developing online youth work to furlough. This offers a contrasting perspective to the recent article in this journal entitled 'Youth Work under lockdown' (Barclay, 2020).
You should not be meeting friends, you should not be meeting family members who don't live in your home, you should not be shopping except for essentials.
Boris Johnson (2020) made this announcement, and with that, community centres, youth clubs and adventure playgrounds across the country closed their doors. At my workplace we had made the decision a week earlier to 'close' the youth club and to work from home.
Young people were still at school. People were confusing the terms social distancing, self isolation and quarantine. Lots of people were travelling less, with fewer commuters coming into London. Masks were appearing on the street. There was a mix of trepidation and slight excitement about what was happening. In the day before the closure, our youth club was becoming quieter and so it made sense to work from home and explore digital programming ideas. Optimistically highlighting that the members are the club and that this is just a building; the doors of which we can close.
So, it began… We wrote reports, we caught up on admin, lots of admin, we joined MS teams. We adjusted our hours, from afternoons and late evenings to a more respectable daytime work pattern. We looked to the future, suggested programme ideas, we closely followed what other organisations were doing, we joined group chats, we took webinars. We wondered if Youth Work and its workforce had developed the resilience we are always supposed to be developing in young people.
'Going digital'
There was justifiable fear across the whole community sector that the most vulnerable people would lose support in lock down. Services that provide a lifeline would not physically be there, and going digital was the only way to keep connected.
Young people are digital natives (Prensky, 2004) so utilising technology seemed a lot less challenging than for those who work with other demographics. Whether the workforce was ready for such creative thinking was a different question; we have all experienced a video call where someone has the mic on or off at the wrong time and we spend the whole call with unflattering close ups of our colleagues' nostrils! We were still developing an online presence, but as a small organisation we do not have a marketing or communications team, so we are playing catch-up, very quickly.
We reviewed our offer, our capacity, our technology, and what would be of interest and use to young people. There are hundreds of existing learning tools from languages to photography, craft projects, digital tours, YouTube tutorials and workouts. This was not the time to reinvent the wheel. Our plan was to stand shoulder to shoulder, to offer support, to engage, to empower.
Moving the youth club online meant some exploration of digital technology:
Social media: We already had active Snapchat, Twitter, Facebook, and Instagram accounts. Stories, Posts and streaming some 'lives' could work to create a presence. But, we wanted to be able to 'hang out', to recreate drop-in.
Microsoft Teams: We were already using this for our staff, but it felt like a workforce application (and less suitable for youth work).
That left us considering Zoom, Google Hangouts and House Party.
House Party seemed liked a great idea: small groups, talk, play games. However, in trialling the app, the unlocking and locking of rooms became complicated as people's connectivity went in and out. Other friends of friends and even friends of friends of friends could join, raising some safeguarding issues. However, the young people raised the valid question 'don't you normally want us to promote and invite our friends?'
Google Hangouts: we could not really get to grips with how to hang out and knew asking young people to create Gmail accounts (however beneficial to them for the free google docs) would be chaotic.
So, like everyone else we turned to Zoom.
Zoom felt like it could work. We could schedule a date and time, send out the joining info and then whichever members want to join, can. It was as close to a physical drop-in as we could get and the virtual backgrounds were fun.
Consent and Participation
There was a lot of discussion among youth workers about consent from parents and guardians to use digital platforms. Many youth clubs do not ask for parental consent for young people to join (sometimes gentle reminders that it might be good to let parents/guardians know where you are). We have had discussions in the staff team about whether membership of an online youth club can be subject to permission from a parent. There's no hard and fast rules about this so each organisation will have to decide on what the best way to deal with this will be. We envisaged that most of our programme would be utilised by existing members and felt that online membership could be treated in much the same way as when young people walk into the building the first time, making digital membership forms available.
Voluntary participation has always been regarded as a cornerstone of youth work (Davies, 2005). If young people turn up to a virtual hangout, does this indicate they 'need' it? We know young people are using this technology: not a day goes by where they are not Facetiming, Snapchatting, creating a TikTok, and leaving a digital footprint. It felt like most youth work only ever dipped its toe in the water of the online world. Perhaps young people's use of digital platforms was swept up with the hysteria around 'media consents' and GDPR, resulting in what now is a clearly apparent lack of youth work in a space where young people spend their time?
But for us, the excitement and opportunity of developing a digital programme wasn't to be. Like much of the voluntary sector the finances dictate the capacity, and our finances largely depend on renting out community spaces during the day, something we could no longer do. Shortly after the job retention scheme was announced we were placed on furlough (two weeks after closing the youth club's physical doors).
How does furlough feel?
There is some guilt in being paid to not be at work. A feeling that maybe we should be doing a little bit more – not solving the pandemic, that is not our place, but responding to the needs. Generally, youth and community workers are practical, adaptable, willing. We are used to responding to social issues and being on the front line, out there, in the thick of it and now we can't be.
We know that young people experience loneliness. The risk of loneliness increased by factors like poverty and experienced more frequently in cities (The Children's Society, 2019). We shared concerns that young people who rely on the positive conversations, networks, the safe space that youth clubs provide, don't have that at the moment. We acknowledge young people are often vulnerable, that their technology use has positives and negatives. We consider whether their homes are chaotic, overcrowded, lacking green space close by. We wonder if their parents/guardians might also be on furlough or have been made redundant, and what pressure that could be causing. We know that young people normally in receipt of free school meals are not accessing them. These are usually things that we are well placed to address.
We recognise there are general anxieties about coronavirus and keeping safe and well, and hope they are consuming the right messages and guidelines. And we identify with the feeling of being restricted and not in our normal routines.
But, there is also a sense of relief to be secure financially and physically, to not have to engage or have to stay motivated, to deal only with your experience. If anything, it serves as a reminder of looking after yourself, something youth workers often neglect to do.
On April 8, £750million made available for charities (Schofield, 2020) and had a lot of people asking what happened to austerity? If this money can be made available now, why were funds stripped so severely from the third sector over the last decade?
There is still lots of activity out there in the charity sector and not just those organisations that work alongside the NHS. Centres have gone digital, diversified as food banks, food drops or sending activity hampers to families.
Time for reflection
Some organisations have continued to operate. The continued operation raises questions of a saviour complex.
"A psychological construct which makes a person feel the need to save other people. This person has a strong tendency to seek people who desperately need help and to assist them, often sacrificing their own needs for these people." (Benton, 2017)
To what extent is this driven by the need to be at the epicentre? To be useful? We can see this in other places: dangerous trends on social media, for example, of non-qualified well-intentioned people setting themselves up to become a broker between domestic abuse victims and the police. Are youth and community workers on a mission to justify ourselves as the advocate between the community and the state?
In times of social unease when people have felt let down by the state, it is the community workers who rally people, organise, capture the mood and often become spokespersons for the movement.  As criticism grows of the government handling of the COVID-19 crisis, is this providing an ideal time to offer some comfort and stability to others? Or are youth and community workers desperate to justify their salaries? To satisfy funders? To be seen in line with other professionals: teachers, social workers.
Are we (as a sector) worried we will lose touch with young people and when this is over and its reopening time, they will reopen with no-one to reopen for? We do this nearly every September. Young people join secondary schools with larger enrichment programmes then primary or go off to college and university and have changing priorities. Junior members transition to senior youth club and new members join following summer activities. This change is part of the work, we understand that young people want to belong to the youth club and we help them make the most of it, but they are never 'our young people'.
Currently we do not know how long this will last. We do not know when we can reopen and return to work and what the long term effects of this will be.
Most of us have had the 'what will be the first thing you do' chat. Often talking like we have been in a four year war zone not a four week lock down to keep us safe during a pandemic. So, we remain optimistic that after being so restricted, young people will be ready to try new things, to get outside, get active and engaged in defining the post COVID-19 era.
Youth & Policy is run voluntarily on a non-profit basis. If you would like to support our work, you can donate below.
Last Updated: 14 May 2020
References:
Barclay, L. (2020) Youth work under lockdown: So how do we do this? Youth and Policy. https://www.youthandpolicy.org/articles/youth-work-under-lockdown/
Benton, S. A. (2017, February 06). The Savior Complex. Retrieved April 17, 2020, from Psychology Today: https://www.psychologytoday.com/gb/blog/the-high-functioning-alcoholic/201702/the-savior-complex
Davies, B. (2005). Youth Work: A Manifesto for Our Times. Youth & Policy, 88, 5-27.
Prensky, M (2004) The Emerging Online Life of the Digital Native: What they do differently because of technology,and how they do it. http://www.bu.edu/ssw/files/pdf/Prensky-The_Emerging_Online_Life_of_the_Digital_Native-033.pdf
Schofield, K. (2020, April 08). Charities to share £750 million fund to help them survive coronavirus outbreak. Retrieved April 17, 2020, from PoliticsHome: https://www.politicshome.com/news/article/charities-to-share-750-million-fund-to-help-them-survive-coronavirus-outbreak
The Children's Society. (2019). Loneliness in childhood. London: The Children's Society.
Walker, P. (2020, March 23). UK lockdown: what are the new coronavirus restrictions? Retrieved April 17, 2020, from The Guardian: https://www.theguardian.com/world/2020/mar/23/uk-lockdown-what-are-new-coronavirus-restrictions
Biography:
After skirting around the public sector and caring professions by way of admin, support work and volunteering, I decided on a career change, attending UEL in 2014 to Study MA Youth and Community Work. I have been working as a Youth worker in North London ever since….