Y&P Archive:
Issue 100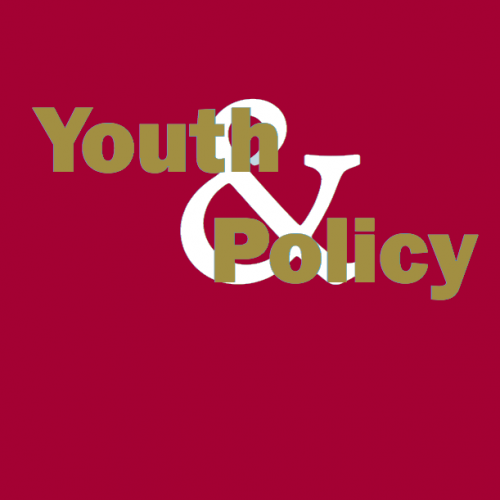 100th Anniversary Edition.
Reflections of youth policy: twenty-five years of Youth and Policy
Bernard Davis
Young people's rights: children's rights or adults' rights?
Priscilla Alderson
'The end of certainty': policy regime change and Australian youth policy 1983-2008
Judith Bessant
Youth work and youth policy in the Republic of Ireland 1983-2008: 'Still haven't found what we're looking for…?'
Maurice Devlin
Youth policy in Wales
John Rose
European youth policy
Howard Williamson
The search for youth policy in the United States
Joyce A. Walker and Dale A. Blyth
Young people, central government and youth work
Tom Wylie
A plague on all our houses? Reflections on media coverage of young people
Tim Burke
The changing world's view of Christian youth work
Mary-Ann Clayton and Naomi Stanton
The transformation of youth labour markets in the UK
Bob Coles
Experiencing youth poverty: a case study
Roger Green and Bonnie Curran
Could do better: education policy since 1983
Tony Jeffs
In from the margins and back again – 25 years of policy: young people, sexuality and gender
Billie Oliver
The changing shape of youth crime
John Pitts
Young people and illicit drug use: differentiated experiences and policy failures
Tracey Shildrick
Young people and leisure
Kenneth Roberts
Housing policy for young people: constructions and contradictions
Mike Seal
'Hiding out in the open': young people and social class in the UK youth studies
Tracey Shildrick
Young people in the community
Keith Popple
From anti-oppressive practice to community cohesion
Kalbir Shukra
The making of leaving care policy 1971-2008
Mike Stein
Young people, politics and participation: a youth work perspective
Tony Taylor
Talk to Frank: youth lifestyles, branding and governmental rationality
Patrick Turner
Valuing youth work
Tony Jeffs and Mark K. Smith
Download
Click to download Issue 100 (.PDF)
Youth & Policy is run voluntarily on a non-profit basis. If you would like to support our work, you can donate below.
Last Updated: 31 August 2017