Y&P Archive:
Issue 116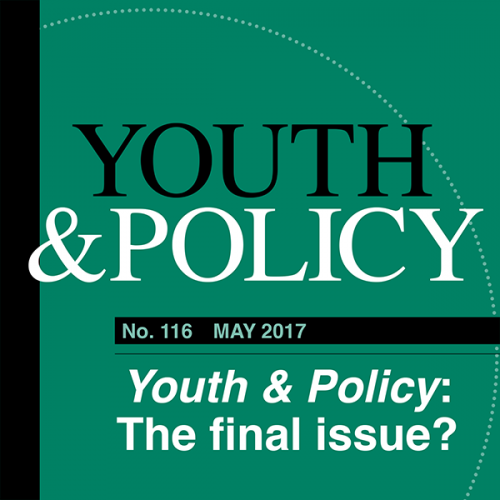 Youth & Policy: The final issue? Towards a new format
Articles
Youth Work and Informal Education: Finding common ground
Tony Jeffs
Beyond the Local Authority Youth Service: Could the state fund open access youth work – and if so, how?
A speculative paper for critical discussion
Bernard Davies
Scientism, governance and evaluation: Challenging the 'good science' of the UK evaluation agenda for youth work
Deirdre Niamh Duffy
Extending democracy to young people: is it time for youth suffrage?
Kalbir Shukra
Youth and adult perspectives on representation in local child and youth councils in Ireland
Shirley Martin and Catherine Forde
What, no coaching? Challenging the dominance of mentoring in work with young people
Tina Salter

Effective gang policy and practice: how research with 'Black male youth' problematizes the official definition of the UK gang
Ian Joseph
Social work with children in the Youth Justice system – messages from practice
Jane Pye and Ian Paylor
Organised Crime, Street Gangs and County Lines
John Pitts
The American news media and youth: distortion, defamation, demographic fear
Mike Males
Finding a better way of protecting young workers
Jim McKechnie, Sandy Hobbs, Emma Littler and Amanda Simpson
Margaret Mead and the 'Unknown Children'
Mike Males
Reviews
Download
Click to download Issue 116 (.PDF)
Youth & Policy is run voluntarily on a non-profit basis. If you would like to support our work, you can donate below.
Last Updated: 20 July 2017
Footnotes:
Students by Gisella Klein. Sourced from Flickr and reproduced under a Creative Commons Attribution-NonCommercial 2.0 Generic (CC BY-NC 2.0) licence. https://www.flickr.com/photos/katzarella/6881053210/