Y&P Archive:
Issue 114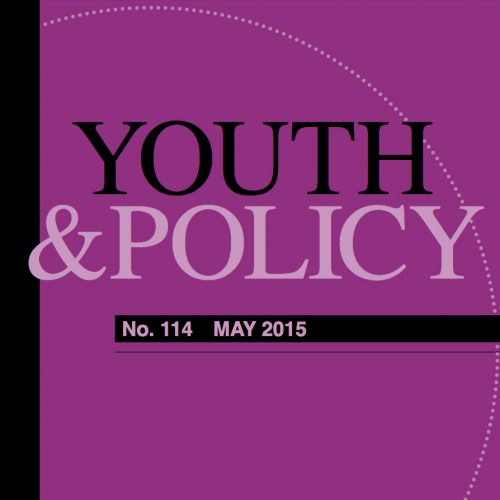 Youth & Policy Special Edition: The Next Five Years: Prospects for young people
Articles
Thinking Space
Reviews
Click for the following reviews:
Kitty te Riele and Rachel Brooks (Editors)
Negotiating Ethical Challenges in Youth Research
Routledge 2013
Wayne Richards
Roger Matthews
Realist Criminology
Palgrave/Macmillan 2014
John Pitts
Mark Naison
Badass Teachers Unite!
Haymarket Books 2014
Kao Nou L. Moua and Alexander Fink
Bonnie Thomas
How To Get Kids Offline, Outdoors and Connecting With Nature
Jessica Kingsley 2014
Maxine Green
Momodou Sallah
Global Youth Work: Provoking Consciousness and Taking Action
Russell House 2014
Yvette Smalle
Jaber F. Gubrium and Margaretha Järvinen (editors)
Turning Troubles into Problems – Clientization in Human Services
Routledge 2014
Jan Huyton
Download
Click to download Issue 114 (.PDF)
Youth & Policy is run voluntarily on a non-profit basis. If you would like to support our work, you can donate below.
Last Updated: 19 June 2017
Footnotes:
General election 2015 by Walt Jabsco. Sourced from Flickr and reproduced under a Creative Commons Attribution-NonCommercial-NoDerivs 2.0 Generic (CC BY-NC-ND 2.0) licence. https://www.flickr.com/photos/waltjabsco/16935122828