Y&P Archive:
Issue 112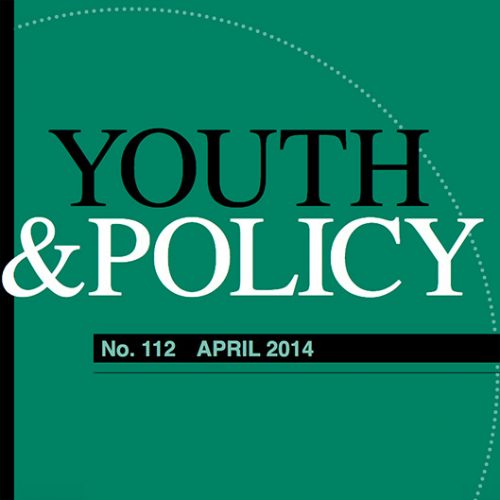 Articles
Building capacity in youth work: Perspectives and practice in youth clubs in Finland and Sweden
Torbjörn Forkby and Tomi Kiilakoski
How do detached youth workers spend their time? Considerations from a time study in Gothenburg, Sweden
Björn Andersson
Gang talking criminologists: A rejoinder to John Pitts
Simon Hallsworth
Enclavisation and Identity in Refugee Youth Work
Martyn Hudson
Aristotle's Phronesis and Youth Work: Beyond Instrumentality
Jon Ord
Attachment, adolescent girls and technology: a new marriage of ideas and implications for youth work practice
Diane T. Levine and Caroline S. Edwards
THINKING SPACE:
[1] The Value of Youth Services towards Child and Adolescent mental health
Matthew Fish
[2] Youth Work and the "Military Ethos"
Janet Batsleer
[3] Racism as Islamaphobia
Bal Gill
Review Article
Independence at risk: the state, the market and the voluntary youth sector
Bernard Davies
Reviews
Youth and Policy 112 – reviews:
Peter Kraftl
Geographies of Alternative Education
Polity Press 2013
Alan Rogers and Mark Smith (eds.)
Journeying Together: Growing Youth Work and Youth Workers in Local Communities
Russell House Publishing 2010
Sarah-Jane Dodd and Irwin Epstein
Practice-based Research in Social Work: A Guide for Reluctant Researchers
Routledge 2011
Phil Jones and Gary Walker (eds.)
Children's Rights in Practice
Sage 2011
Gary Craig, Marjorie Mayo, Keith Popple, Mae Shaw and Marilyn Taylor (eds)
The Community Development Reader: History, Themes and Issues
Policy Press 2011
Justine Howard and Karen McInnes
The Essence Of Play: A Practice Companion For Professionals Working With Children and Young People
Routledge 2013
Nikki Giant
E-Safety for the I-Generation – Combating the Misuse and Abuse of Technology in Schools
Jessica Kingsley Publishers 2013
Download
Click to download Issue 112 (.PDF)
Youth & Policy is run voluntarily on a non-profit basis. If you would like to support our work, you can donate below.
Last Updated: 22 June 2017