Manchester Partispace Project Colloquium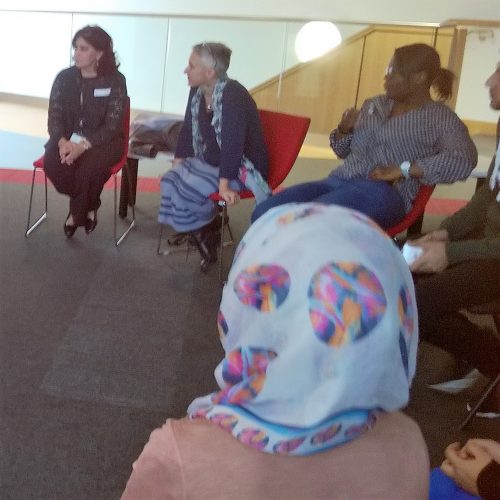 Partispace colloquium
Formal, Non-Formal and Informal Possibilities of Young People's Participation in European Cities
March 7th 12 noon to 6pm MMU Brooks Building
We would like to invite colleagues from Manchester and Greater Manchester and further afield, academic colleagues with an interest in our work and all those who have so generously contributed time and insight to the Manchester study to join us for this stimulating gathering.
The afternoon will include presentations by Manchester and Huddersfield based researchers and by Partispace project partners. The timetable for the afternoon accompanies this invitation.
RSVP: J.Batsleer@mmu.ac.uk
MMU Brooks Building
12.00 Lunch and 12.45 Welcome: JB,NT,B-PS
1.00pm
Findings of the European Project Grainne McMahon and Alexandre Pais (20mins)
1.30pm-2.20pm New Ways of Exploring Participation and Democracy
Edda San Obois: The role of City Forums (15 mins)
Janet Batsleer and Grainne McMahon Findings of Partispace: Youth Forums and Councils, possibilities and limitations; New forms of on line activism, possibilities and limitations (30 mins max)
2.30pm- 3.45 pm Manchester Projects Update: 2.30 RAPAR (Rhetta and Grainne) 2.45 Youth Council (Nigel and Barry); 3.00 The Agency (Steve) ; 3.15 Introduction to the Living Lab: James Duggan 3.30 Presentation of Manchester Partispace Pamphlet (to all project partners)
Tea Break
4.00pm- 5.00pm
Culture, Collective Agency and Democracy
4.00- 4.20
Dr Jane McDonnell : Considering the arts and democracy. (15 mins)
4.20-5.00
Findings of Partispace: the centrality of art, creativity and collaborative practice for democracy.
JB: Harriet; Geoff
The Manchester Partispace pamphlet and and play out with Noise Upstairs, extract from John Zorn's Cobra.
NB This event is not organised by Youth and Policy. Please contact: J.Batsleer@mmu.ac.uk
Youth & Policy is run voluntarily on a non-profit basis. If you would like to support our work, you can donate below.
Last Updated: 16 January 2018