Article:
Boys' transition to manhood: A missed opportunity for masculinity transformation; Implications for domestic violence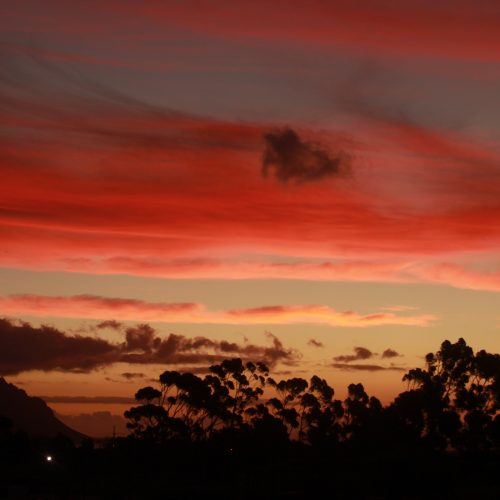 Dr Mshweshwe provides an insight into the traditional initiation schools for boys in South Africa, hegemonic masculinity, and its implications for domestic violence. She explores the intersections of gender with culture, race, and class and how it shapes attitudes towards women.
The problem of domestic violence in South Africa is deeply rooted in exaggerated hegemonic masculinity (Mathews, et al., 2011). The hegemonic masculinity that exists within the patriarchal tradition and cultural context contributes to the widespread violence against women (Magodyo, 2013; Ratele, 2015). In response to this prevalence of violence the feminist strategies to engage men and boys in preventing violence against women has grown over the past few decades (Carlson et al., 2015; Flood, 2011). Non-government organisations like Sonke Gender Justice have developed strategies to engage men and boys in challenging patriarchal beliefs and promote gender equality (Carlson et al., 2015). The implementation of such interventions is based on the belief that masculinity norms can be progressively transformed through community interventions that promote healthy masculinity (Christofides, et al., 2018). This offers optimism that gender relations can be improved through initiating alternative positive masculinity behaviour and facilitating a process of reflection on the implications of violence (Jewkes et al.,2015). However, such endeavours are constantly undermined by culture and traditions which boys and men usually exist within (Ratele, 2015).
Research suggests that culture and tradition require men to exhibit negative hegemonic masculinity to achieve the idealized manhood (Sideris, 2004). These characteristics include the control of women, and aggressiveness (Vincent,2008). They are usually formally introduced to boys during the socialization, particularly within the ideology of traditional circumcision (Mfecane, 2016). Most men in South African cultural contexts are considered complete men only when they have undergone traditional circumcision and adhere to norms and standards agreed within this custom. Thus, in response to the widespread issue of 'masculinity crisis' and domestic violence, there appears to be a gap in terms of understanding the impact of traditional circumcision on constructions of masculinity. This paper explores the custom of traditional circumcision and masculinity constructions. In particular, the paper seeks to understand teachings within the initiation schools and how they influence the constructions of masculinity for men.
Constructions of masculinity in the traditional context
Research demonstrates that culture and tradition are an important aspect of African human relations, based on co-dependency between individuals, and the belief that a person is a person because of others (Gasa, 2011). Researchers in masculinity highlight that culture plays a role in perpetuating gender inequality through influencing the way manhood is perceived and performed (Connell, 2013; Morrell, 1998). They argue that culture and traditional beliefs shape men's understanding of appropriate gender roles and responsibilities (Albertyn, 2009). Such traditions include the practice of traditional circumcision which emphasize on hegemonic masculinity that is characterized by aggression and domination of women (Kang'ethe & Nomngcoyiya, 2016; Siweya, 2018; Vincent, 2008).
Traditional circumcision is practiced by most tribes in South Africa especially populations in the rural areas (Mhlahlo, 2009). It involves sending a group of boys in their late adolescence to temporarily reside in isolated sites where they receive manhood mentorship following circumcision (Ncaca, 2014). It serves as an institution to teach young men good moral and social values so that they can be able to deal with the responsibilities of manhood (Ncaca, 2014). This is done through nominating specific male members of the community who have already been initiated to facilitate talks with initiates throughout the duration of the initiation school, which takes anything between three to eight weeks (Ncaca, 2014). The traditional circumcision is described as a rite of passage to manhood; a tangible cultural mark of manhood which serves as an indicator of the strength and the ability to withstand pain (Ngwane 2004). Mfecane (2016) argues that within the traditional circumcision discourse, manhood represents hegemony since it is the most honoured way of being a man while generally characterised by dominance towards other masculinities.
The teaching within the initiation school tends to focus on gender normative roles where initiates are taught the centrality of breadwinner role to manhood (Vincent, 2008). The conception of men as breadwinners serve to reserve them the leadership position within the family while defending it from falling into the hands of women. The notion that manhood is about being strong, assertive and tough towards women is central to the teachings in the initiation school (Siweya, 2018; Vincent, 2008). Many researchers have argued that initiation school is informed by patriarchal power dynamics that continue to embrace the belief that men should control women while expecting women to be submissive to their leadership (Kang'ethe & Nomngcoyiya, 2016; Siweya, 2018). Similarly conforming and adhering to these idealised constructions of masculinity and social conduct is emphasized within the discourse of traditional circumcision. These conservative teachings have been found to perpetuate stereotypes about gender roles and demean women's status even in this current era, where gender relations have been redefined to embrace gender equality (Ncaca, 2014; Vincent, 2008).
The decay of moral values has been put forward as the reason for problems within the initiation schools. Vincent (2008) argues that the traditional circumcision practice has changed over time, and is no longer representing the authentic values, which are based on respect and accountability. The changes in black people's traditions have been linked with the disruption caused by colonial and apartheid domination (Ratele, 2015). Many researchers have argued that traditions have become patriarchal because the colonial rule imposed the inequalities between men and women through the administration of gender inequality in the family structure, and institutions like education (Arowolo, 2010; Maluleke, 2012). Its worth noting that the original intentions of this ritual are to teach good behaviour, respect and avoidance of violence on young men (Mfecane, 2016), but this is no longer the case, due to lack of role models to represent true African values within the communities in which the custom takes place (Vincent, 2008).
The crisis of masculinity and its implications
Research shows that the common expressions of hegemonic masculinity are characterized by the struggle between traditional practices, and manhood that is defined by the desire to be a modern, respectable and responsible man (Walker, 2005). Magodyo (2013) suggest that not all men who went through the practice of traditional circumcision construct and perform masculinity according to traditional expectations and norms. Some men develop their concept to redefine what it means to be a man, for example, based on the influence of their family background, or formal education which has been found to play a role in influencing positive masculinity behaviour. Men who defy traditional constructions of manhood, tend to reject cultural stereotypes such as aggression, and entitlement to exclusive rights over women. Instead, they adopt the gender equality approach in negotiating family life and rejecting violence (Magodyo, 2013). Sideris (2004) discusses how some men in the traditional rural community contest dominant constructions of masculinity through negotiating more equal relationships with their partners; by cooperating in performing household duties and negotiating equality in decision-making. Thus, living in a social context where ideas, values, as well as community norms that affirm gender inequalities still hold currency, these men are often ridiculed in their communities as they are perceived as defying the norms of manhood.
The prevailing norm in the traditional context, as has already been stated, is that men need to be tough on their women to retain their position of power to be recognized as proper men. Research shows that the promotion of hegemonic masculinities that place value on aggression, and male entitlement in rural spaces are key contributors to violence against women (Barton & Walker, 2013). The constructions of traditional masculinity influence negative perceptions about women, for example as inferior, and subordinates of men (Carrington & Scott, 2008). Such perceptions become the basis for negative gender relations that influence domestic violence (Barton & Walker, 2013; Carrington & Scott, 2008). Mshweshwe (2018) noted an overwhelming acceptance of domestic violence against rural women, which is associated with patriarchal cultural norms, include, the belief that husbands as the head of the family have rights to control their wives.
The problem of domestic violence has been generally attributed to the destruction of the economic material through colonisation and apartheid, which has made it difficult for black South African men to attain manhood through traditional ways, for example, wealth and producing from their land (Magodyo, 2013). The unemployment threatens expressions of masculinity, with some men being unable to fit the idealised standard of manhood and family leadership because they have no means to provide for the family (Lynch et al., 2010). Morrell, et al. (2005) argues that economically marginalised men tend to face challenges in achieving hegemonic masculinity ideals and that instils the idea that they do not meet the standard of proper manhood. As such, in response to their subordination, they exhibit violent traits of hegemonic masculinity. This is especially the case for men who subscribe to dominant traditional ideas about gender roles, in particular, the responsibility to provide for the family (Bhana, 2016, Ratele, 2015).
Conclusion
This paper has sought to explore the custom of traditional circumcision to understand how teachings within the initiation schools influence constructions of masculinity, intending to highlight the key role of culture, customs in domestic violence. The context-specific theorisation of the problem of domestic violence has effects on not only our understanding, but on the direction of future research, as well as ways to influence policy, and interventions. A complex relationship between domestic violence, culture and constructions of masculinity is shown in this paper. The role of intersections of gender with culture, race and class in the issue of domestic violence in South Africa has become visible in this work. The paper reveals that socialised traditional beliefs and cultural norms that guide men's serve as an enabler of domestic violence are instilled on young men during the socialisation within the initiation school. Norms of traditional masculinity shape the attitudes towards women in heterosexual relations linked substantively to cultural beliefs about appropriate behaviour for men. These attitudes are passed down intergenerationally, through customs like traditional circumcision.
Similarly, alternatives to hegemonic masculinities are important in gender reform. This paper has highlighted how the custom of traditional circumcision influence constructions of masculinity while also maintains and reproduce negative hegemonic masculinity. This article recommends that interventions with boys and men must reflect traditions and cultural realities demonstrated in this research to enhance effectiveness and substantial change. The theoretical concept of hegemonic masculinity is crucial evidence that needs to be integrated into domestic violence prevention interventions to ensure a shift in men's traditional beliefs about gender relations. Initiation schools can be used as a vehicle for positive change through implementing culturally sensitive interventions that involve the community mentors in facilitating dialogues with initiates. Such a heedful programming approach may significantly transform negative masculinity, promote gender equity and reduce domestic violence.
Youth & Policy is run voluntarily on a non-profit basis. If you would like to support our work, you can donate below.
Last Updated: 2 July 2020
References:
Abrahams, N., Jewkes, R., Martin, L. J., Mathews, S., Vetten, L., & Lombard, C. (2009). Mortality of women from intimate partner violence in South Africa: A national epidemiological study. Violence and Victims, 24(4): 546-556.
Arowolo, D. (2010). The effects of western civilisation and culture on Africa. Afro Asian Journal of Social Sciences, 1(1), 1-13.
Barton, L., & Walker, S. (2013). Gender, class and education. London: Routledge.
Bhana, D. (2016). "Here in the rural areas they don't say that men and women are equal!" Culture, materiality and gender. In D. Bhana (ed.), Gender and childhood sexuality in primary school. Singapore: Springer. pp. 83-98.
Bograd, M. (1988). Feminist perspectives on wife abuse: An introduction. In K. Yllo & M. Bograd (eds.), Feminist perspectives on wife abuse. Newbury Park, CA: Sage. pp. 11-26.
Buiten D and Naidoo K (2013) Constructions and representations of masculinity in South Africa's tabloid press: Reflections on discursive tensions in the Sunday Sun. Communicatio 39(2): 194–209.
Burchardt, M. (2018). Saved from hegemonic masculinity? Charismatic Christianity and men's responsibilization in South Africa. Current Sociology, 66(1), 110-127.
Carlson, J., Casey, E., Edleson, J. L., Tolman, R. M., Walsh, T. B., & Kimball, E. (2015). Strategies to engage men and boys in violence prevention: A global organizational perspective. Violence against women, 21(11), 1406-1425.
Carrington, K., & Scott, J. (2008). Masculinity, rurality and violence. The British Journal of Criminology, 48(5): 641-666.
Christofides, N. J., Hatcher, A. M., Pino, A., Rebombo, D., McBride, R. S., Anderson, A., & Peacock, D. (2018). A cluster randomised controlled trial to determine the effect of community mobilisation and advocacy on men's use of violence in periurban South Africa: study protocol. BMJ open, 8(3), e017579.
Connell, R. W. (2013). Gender and power: Society, the person and sexual politics. New York: Wiley.
Connell, R. W. (2017). On hegemonic masculinity and violence: Response to Jefferson and Hall. In S. Tomsen (ed.), Crime, criminal justice and masculinities. London: Routledge. pp. 57-68.
Flood, M. (2011). Involving men in efforts to end violence against women. Men & Masculinities, 14, 358-377.
 Gasa, N. (2011). The Traditional Courts Bill: A Silent Coup?. South African Crime Quarterly, 35, 23-29.
Jewkes, R., M. Flood, and J. Lang. 2014. "From Working with Men and Boys to Changing Social Norms and Reducing Inequities in Gender Relations: A Paradigm Shift in Prevention of Violence against Women and Girls." The Lancet. 385 (9977): 1580–1589.
Jewkes, R., Morrell, R., Hearn, J., Lundqvist, E., Blackbeard, D., Lindegger, G., … & Gottzén, L. (2015). Hegemonic masculinity: combining theory and practice in gender interventions. Culture, health & sexuality, 17(sup2), 112-127.
Kang'ethe, S. M., & Nomngcoyiya, T. (2016). An exploration of subjugation of women among the communities practising traditional male circumcision rite in Eastern Cape, South Africa. Journal of Human Ecology, 54(2), 124-130.
Lynch, I., Brouard, P. W., & Visser, M. J. (2010). Constructions of masculinity among a   group of South African men living with HIV/AIDS: reflections on resistance and 
 change. Culture, health & sexuality, 12(1), 15-27.
Magodyo, T. C. (2013). The role of Ulwaluko in the construction of masculinity in men at the University of the Western Cape (Doctoral dissertation, University of the Western Cape).
Maluleke, M. J. (2012). Culture, tradition, custom, law and gender equality. Potchefstroom Electronic Law Journal/Potchefstroomse Elektroniese Regsblad, 15(1).
Mathews, S., R. Jewkes, and N. Abrahams. 2011. "'I Had a Hard Life': Exploring Childhood Adversity in the Shaping of Masculinities among Men Who Killed an Intimate Partner in South Africa." British Journal of Criminology 51: 960–977.
Mazibuko, N. C. (2017). Checkmating the mate: power relations and domestic violence in a South African township. South African review of sociology, 48(2), 18-31.
Mhlahlo, A. P. (2009). What is manhood?: the significance of traditional circumcision in the Xhosa initiation ritual (Doctoral dissertation, Stellenbosch: University of Stellenbosch).
Morrell, R. (1998). Of boys and men: Masculinity and gender in Southern African studies. Journal of Southern African Studies, 24(4): 605-629.
Morrell, R., & Ouzgane, L. (2005). African masculinities: An introduction. In L. Ouzgane, & R. Morrell (eds.), African masculinities: Men in Africa from the late nineteenth century to the present. New York: Palgrave Macmillan. pp. 1-20.
Mpondo, F., Ruiter, R. A. C., Van den Borne, B., & Reddy, P. S. (2015). Self-determination and gender–power relations as predictors of condom use self-efficacy among South African women. Health Psychology Open, 2(2). [Online]. Available at: https://doi.org/10.1177/20551029155598876.
Mshweshwe, L. (2018). Support for abused rural women in the Eastern Cape: views of survivors and service providers (Doctoral dissertation, University of Johannesburg).
Ncaca, M. (2014). Yithi Uyindoda!(Say, you are a man!): an ethnographic study on the religion and masculinities in initiation schools in Cape Town Townships (Doctoral dissertation, Stellenbosch: Stellenbosch University).
Ngwane, Z. 2004. "'Real Men Awaken their Fathers' Homesteads, the Educated Leave them in Ruins': The Politics of Domestic Reproduction in Post-Apartheid South Africa." In Producing African Futures: Ritual and Reproduction in a Neoliberal Age, edited by B. Weiss, 167–192. Leiden: Brill
Ratele, K. (2015). Working through resistance in engaging boys and men towards gender equality and progressive masculinities. Culture, health & sexuality, 17(sup2), 144-158.
Shai, N. J., & Sikweyiya, Y. (2015). Programmes for change: Addressing sexual and intimate partner violence in South Africa. South African Crime Quarterly, 51: 31-41. doi:10.4314/sacq.v51i1.4
Seroto, J. (2018). Dynamics of decoloniality in South Africa: a critique of the history of Swiss Mission education for indigenous people. Studia Historiae Ecclesiasticae, 44(3), 1-14.
Sideris, T. (2004). "You have to change, and you don't know how!": Contesting what it means to be a man in a rural area of South Africa. African Studies, 63(1): 29-49.
Siweya, T., Sodi, T., & Douglas, M. (2018). The Notion of Manhood Embedment in the Practice of Traditional Male Circumcision in Ngove Village, Limpopo, South Africa. American journal of men's health, 12(5), 1567-1574.
Vincent, L. (2008). 'Boys will be boys': Traditional Xhosa male circumcision, HIV and sexual socialisation in contemporary South Africa. Culture, Health & Sexuality, 10(5): 431-446.
Biography:
Linda Mshweshwe PhD has been an academic, activist, researcher and trainer in the field of domestic violence for the past few years. She is a University of Johannesburg fellow, who obtained a Masters from Beckett University and Doctorate from the University of Johannesburg, Department of Sociology. She has publications in the area of domestic violence, focusing on rural areas. Her research has looked at influence of informal support and culture for abused women. She has lectured at the University of South Africa. Linda has a keen interest in the welfare of youth and women. She also does consulting in the areas of gender-based violence transformation.